Bloody England.
And Bloody Wales.
And Bloody Worcester City.
So I have been embarking on a trip to see as many football teams play in as many stadiums as possible. I had hoped to reach 100 by the end of the season, and I did! I thought I'd did it on a Tuesday in mid April when I went through the turnstiles at Deepdale (home of Preston North End), ticking off my 100th ground.
Or so I thought.
Turns out, like all brilliant minds do every now and again, I had miscalculated. I had seen 100 different teams playing at various stadiums. However, I'd actually ticked off a fair few already.
Let me explain using my beloved Wales.
Ask me if I seen Wales play at home, then I would say "Yes". I had. However I'd seen them play in two different venues that they call "Home": The Millenium Stadium & Cardiff City Stadium. Same applies to England (Old Trafford & Wembley) and Worcester City (St George's Lane & Aggborough). Like Phileas Fogg, I'd well and truly screwed up my calculations and actually achieved more than I thought.
So in actual fact, my 100th ground – Ramsbottom United vs Colwyn Bay – was completed on a cold Spring evening in Late March, making Preston, Blackpool, and my trip to bloody Genoa rather redundant.
Oh well.
All in all, I feel a weird sense of pride with my achievement. It's means nothing, didn't make me healthier, didn't raise money for a charity or even do something for somebody. It was selfish, it was selfish bloody minded stubbornness for something that impressed only me and a few other people. I don't think I'd even put it on my Tinder bio.
But I don't care, as for this journey, there has been a weird solace for me within a WhatsApp group. Two of my friends from university heard about the challenge and decided to go for their own challenge related to it. One of which was to hit 100, another was to hit 50. If absolutely nothing else, as I hurtle to my mid 30's, I'm glad that I've managed to reclaim and spend some quality time with two great friends. That has been what has made the last 6 or so month's special.
I've not decided if I'm continuing to 200, or 250, or whatever. This isn't swimming: the next 100 will probably be harder, but I've paired with one of my friends and we've started a little instagram account for groundhopping. You can see it here at @ystbah. Please give us a follow!
Anyway, now onto some stats!
Most Northerly ground – Firhill, Glasgow (Partick Thistle)
Most Easterly & Southerly ground – GSP Stadium, Nicosia (Cyprus)
Most Westerly ground – Giants Stadium, New York (New York Red Bulls)
I've watched football matches in 13 different countries: Andorra, Belgium, Cyprus, England, France, Germany, Hungary, Italy, Republic of Ireland, Scotland, Switzerland, United States and Wales.
I've watched football at 59% of the teams in the Evostik Divison 1 North, my most populous league.
I've seen football played in 23 competitions: European Championships, World Cup Qualifications, European Championship Qualifications, Champions League, Europa League, Premier League, Championship, League 1, League 2, Conference North, Evostik Premiership, Evostik Division 1 North, Evostik Division 1 South, North West Counties Premier League, FA Cup, League Cup, FA Trophy, League of Wales, Cymru Alliance, League of Ireland, Scottish Premiership, Bundesliga & Serie A.
Anyway, here's a map!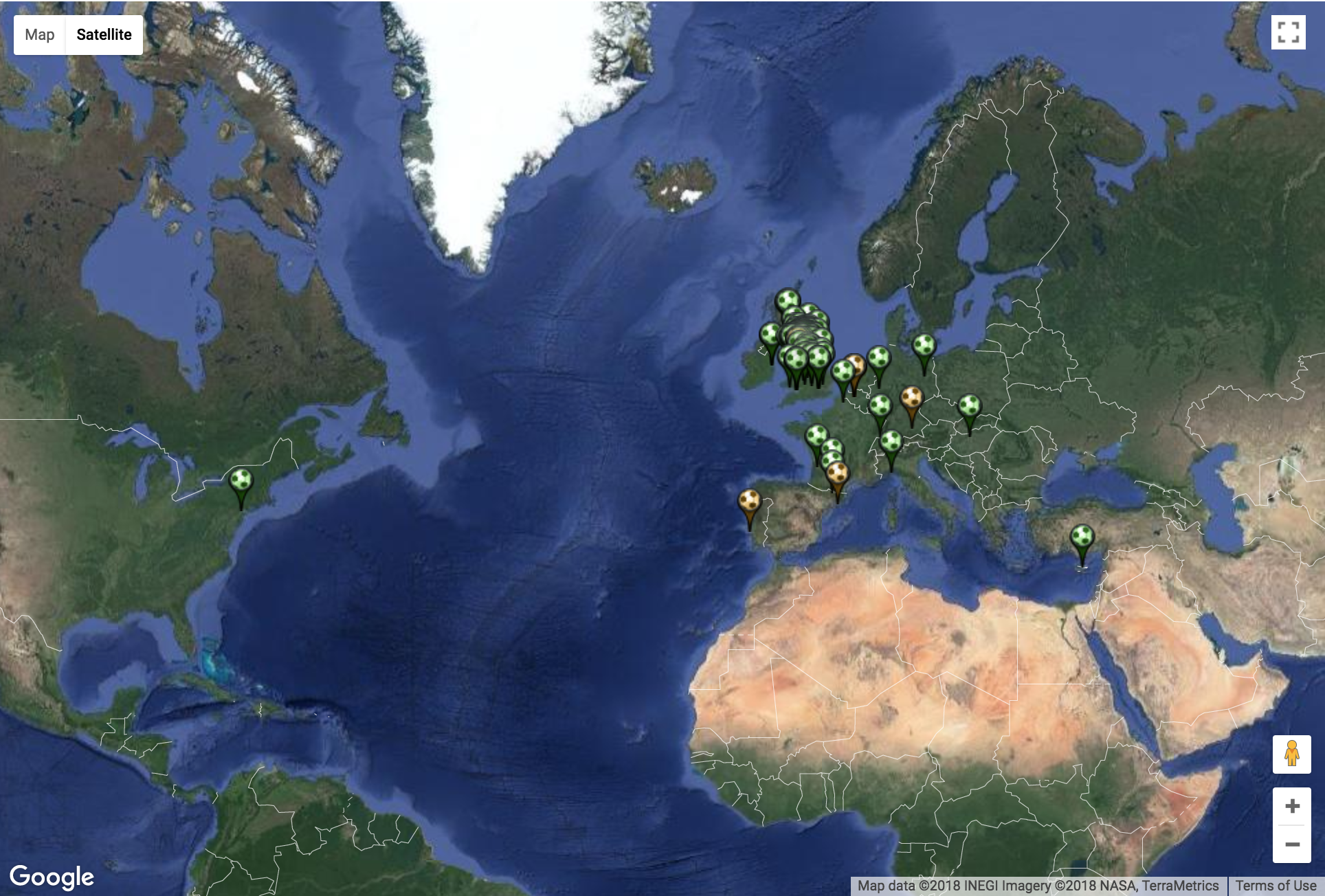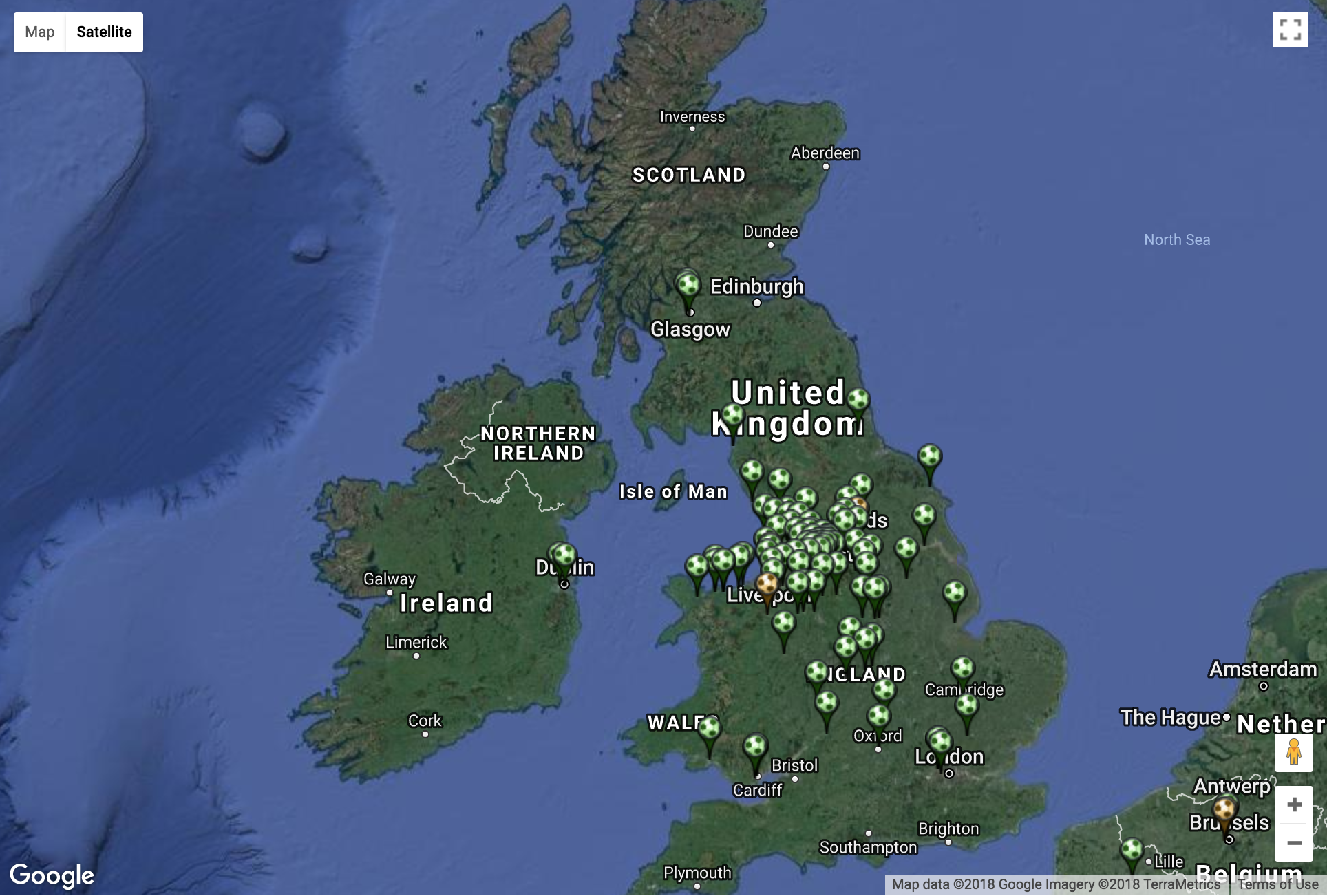 Anyway, if you have any questions or anything, I'm opening the comments up to an unofficial AMA, if you have any questions for my escapades, leave them in the comments!