I am Welsh. Yep, that's a shock.
I went to France when we qualified for Euro 2016. My first game was away against Switzerland where we lost dropping us below the Faroe Islands in the Fifa World Rankings. I supported throughout the 90's, the false dawn of Euro 2004, Speed and every high and low through it. One of my earliest memories was seeing Wales crash out to Romania in the World Cup 94 qualification. I thought we would be back, but was unaware of just how long.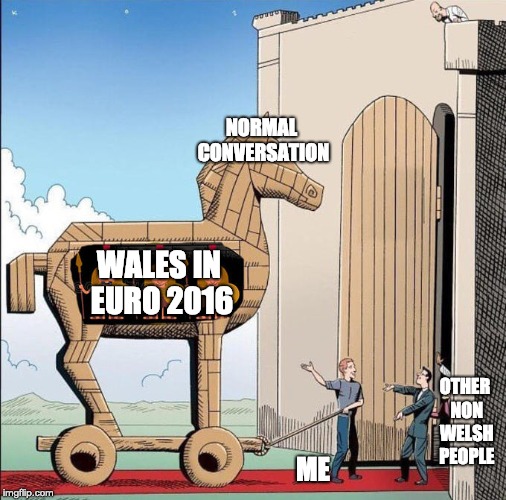 In my house I have 3 photos of my time in France, and 4 photos or artwork of Hal Robson Kanu's goal against Belgium. I have 2 of my family. I came close to quitting my job in 2016 as I was wanting to stay as long in France as possible.
I don't identify as English or support the English football team. We don't expect to qualify for tournaments. This is our first World Cup since the 1950's. This is only my third tournament I have seen Wales perform in within my lifetime (I am pushing 40). This is the first with teams like the South American teams, African teams and their respective continent heavyweights. We rarely play them. The last time we played a non-European team in a friendly was in 2020 (ironically, against our next opponents, the USA), the last time we played outside of Europe was in 2018, also the last time we had an actual competitive fixture against a non European team (hello China Cup). Moments like the World Cup don't come around to a nation like ours much.
The World Cup kicks off in Qatar in a few days, this should be the peak of my Welsh fandom, and I'm so non-plussed. And I don't know why.
Positive Patriotism
I know who isn't responsible. The Welsh team and the players themselves. The FAW rarely puts a foot wrong. We saw relatively close up this in France when shoots were being formed. The synergy between the fans, players and the FA is just so on point that even though the "Together Stronger" mantra hasn't been used for over 6 years, it's still there. It's something that rugby – our supposed national sport – look on with envy, with opinion pieces on how crap rugby's setup is compared commonplace on Welsh news sites. Hell it shed its stuffy image before even then, as even when I was privvy to some of the backroom goings on with Colwyn Bay, it felt like even though we were in the English system, the FAW worked with us.
It feels like now with us, there's an air of positive patriotism. You saw it at the qualification match against Ukraine. You had two sets of supporters who have been on very different journeys but were proud of what was achieved, and wanted to sing about ourselves with a confidence that people will want to be a part of what we are. Hell, even our World Cup anthem is in Welsh. Brave, but unsurprising from a organisation that doesn't lack confidence at the moment.
Soulless
No, unfortunately, like most things it lands with the human rights. LGBTQ+ friends would be treated like second class citizens, thousands of workers have died in the construction of the tournament.
There's also the reeking of corruption. Qatar have every right to apply to host the World Cup but it doesn't exactly strike as a footballing powerhouse (my only Qatari footballing memory is they were the team I edited out on Striker for the SNES to replace with me and my school mates). Sure there have been World Cups in places that don't love the beautiful game before, but at least there was a case for infrastructure being largely there. This tournament seems like it was largely sold with huge piles of money, and the infrastructure was built on blood.
Finally, and here's a minor point. It doesn't seem like a fun tournament, and not the celebratory atmosphere that existed in other tournaments like the one I attended in France. I know people who have been to all World Cups and Euros since 2002 and they're skipping this one. It seems like forced fun. Like your uncle trying to act cool in front of you and your pals but doing it in a cringeworthy way. But the uncle has 6,000 slaves and would execute your gay mate Dave if given half the chance.
Hypocracy
I've looked on with envy at some of my friends taking strong stances against the LGBT rights of Qatar, the shocking human rights records and just how corrupt it seems to be, and are boycotting the World Cup. I'd feel it's a lot easier to boycott when you're German, or support a team like Real Madrid, and qualification & going far in major tournaments is practically a birth right. Us Welsh don't have such a luxury. Or maybe I'm just a bit weak willed.
So forgive my hypocrisy in so much that I'll be watching, tweeting and talking about the Wales matches at the World Cup. If waiting 38 years to break my proverbial World Cup cherry, you may as well try to watch bits of it. I've even bought a box of stickers to try and catch up with my Qatar album (the first panini World Cup album with pages dedicated to Cymru). Hit me up for swaps.
But I cannot say I'll watch outside of those matches, or even enjoy it. Not in the usual "oh god heart in my mouth Wales are gonna fuck this up" way of me watching Wales, but just the feeling of supporting a corrupt regime putting on what is lining up to be a shitshow that means I have sacrificed my morals to watch Wales play in the one tournament I have dreamed of since Bodin knocking a penalty against the crossbar. It puts a knot in my stomach and makes me feel absolutely filthy. I don't think any amount of showers, scrubbing or donations to Amnesty International will change it.
I may put a flag or two up. We need some colour in my dull cul-de-sac.