Organised on a bit of a shoestring, but let's do it…
So one factor to come out of WordCamp Europe for the UK crowd is/was "how to get face to face time with the community all together?". Many of us it was the first time we saw each other since COVID and for 3 years and there hasn't been much, if anything going ahead.
There didn't seem to be much enthusiasm for creating a WordCamp as of yet*, as – well – life has gotten in the way of a lot of the volunteers. However it was good seeing the community again.
So a few people proposed an informal meetup, and I'm deciding to run with it. I'll be sat in Mayfield Park, Manchester on the 19th August at about 11am (train times permitting). The aim is to be there until about 4 or 5pm where we'll all go our separate ways.
I've been calling it PicnicPress as it's an informal, social meetup to discuss WordPress stuff and get some community face to face time. Bring a picnic as well as any sort of things to make you comfortable (camping chairs, picnic blankets). Hopefully the day will be dry but we can play it by ear if not, and if we have to relocate so be it!
PicnicPress Details
Where – Mayfield Park, 11 Baring Street, Manchester M1 2PY (Google Map). I'll bring something loud and obnoxious so we're easy to spot. Think a flag like at Glastonbury.
When – 11am until about 4-5pm ish. (Google Calendar Link).
How Much – Free (please bring your own refreshments).
There are no tickets, but drop me a comment or a message if you are attending or thinking of attending. Obviously if it turns out to be a success and something people want then we can go forward (and I am happy to take it out of my blog but…you know…I felt it was better to get something up and running).
I think I have everything. If I've forgotten something, or if you have any questions – then please drop me a message (or on Twitter, Linkedin or Mastodon – or if you have my phone number or my Facebook, then message me on there), and I'll do my best to answer this and update this blog post if needed.
Hope to see you! Bring sandwiches!
Update – 11th July 2023
So I went to check out the Mayfield Park on Sunday to answer a few questions to myself, and I thought I'd share them. We're likely going to meet on the big green flat area in front of the "Depot Mayfield" sign here.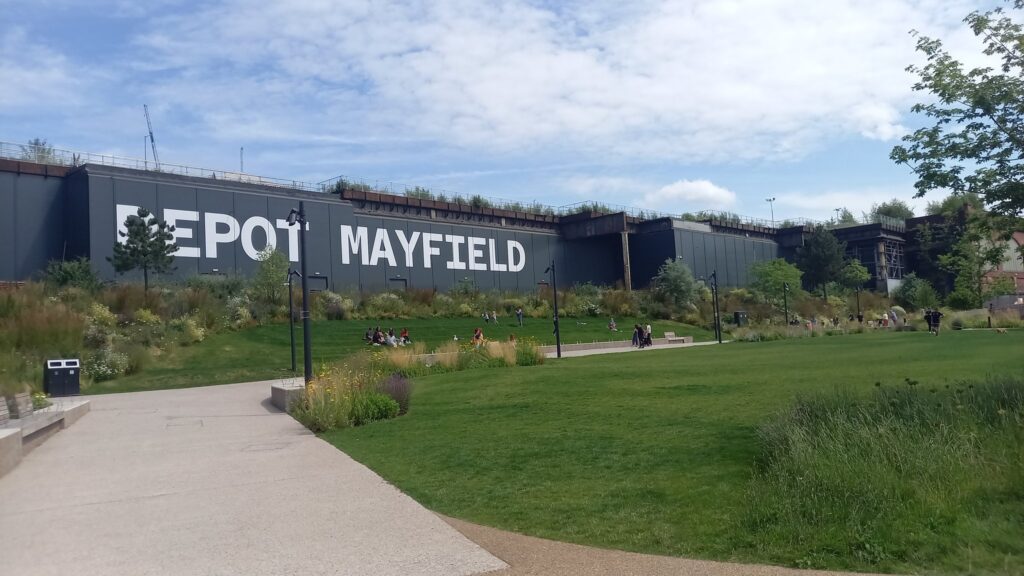 There were a couple of additional things, it's largely signposted from the taxi area of Manchester Piccadilly Station towards Fairfield Park.
There is a small kiosk that sells sandwiches and coffees, and the map suggests there's a loo by the kids play area (I didn't check it out).
One important thing is no alcohol or smoking in the park. There were signs around.
*Though that may have changed since I started writing this: waves in the direction of Whitley Bay.
Update – 14th August 2023
So as a couple of people have asked me, yes this is still going ahead 🙂. As said it was an informal meetup rather than anything formal so yes I'm planning on being there this week (I've a minor update on that towards the end of the post). So I'll guess I'll share a few questions and things that have been going around in my head.
Weather – Manchester is dodgy weather wise at the best of times, so please bring wet weather gear. It's very changeable at the moment. I still plan to show up but if it's chucking it down we may relocate to a cafe nearby (there's a few cafe's nearby), Foundation Coffee House on Whitworth Street is nearby. I'll try and post updates as soon as I can.
Transport – No train strikes planned that day 🎉. Obviously there may be work on your area.
COVID – So for full disclosure I've a nasty cough I've been trying to shift. Every COVID test has come back negative. As it's a public park I cannot insist on people taking tests beforehand, but I hope if you do have an illness you'd stay away, or at the very least take a COVID test. Thanks.
Should you need to get in touch with me the best way is on the UK WordPress slack, or Twitter DMs.