As the developer of a popular email list building plugin for WordPress, I usually spout how email marketing works really well, it was just before Christmas that I experienced it first hand.
I was feeling a bit down before Christmas. I had used up all my holiday and it was wet, cold and miserable. An easyjet email said "We're now flying from Manchester to Genoa in late March". "Au contraire!", I said, "I am flying from Manchester to Genoa in late March". Bish bash bosh, done. I've something to look forward to, and come late March (last week), I was ready for my trip to Genoa. Much, much needed.
I arrived in Genoa late on Thursday on a comfortable flight, and whilst I arrived successfully, I had a problem with the ticket machine. First tip: The ticket machine didn't take €20 notes and the cash machine only dispenses in €20 notes. I ended up changing the €6 bus to the centre to a €40 taxi unfortunately, and I only realised after getting into the taxi I that there was a shop there, d'oh! I could have changed €20 for a €1 bottle of water and change for the bus. Ah well. Live and learn.
Rest of the short break was incredible though, and my thoughts (obviously) quickly turned to food. I ended up going to the wonderful Pasta Street, a reasonably priced eatery with a Carbonara to die for. After deliberately getting lost on the way back to the hotel and finding a wine bar for a nightcap I had a relatively early night.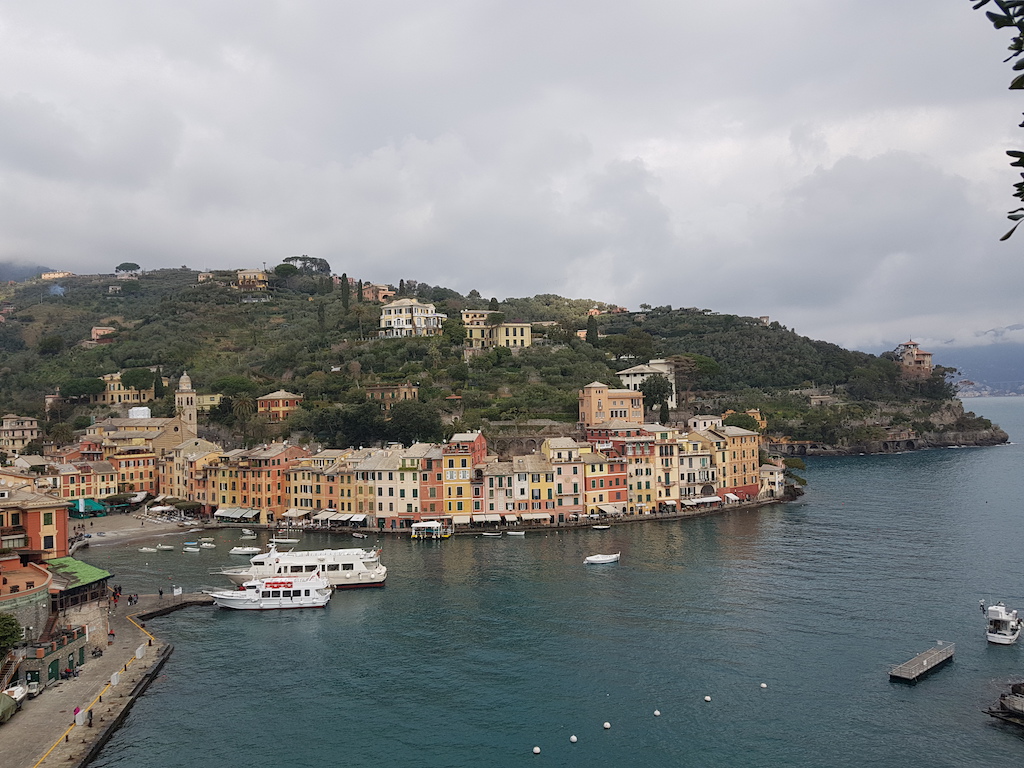 I'm so glad I had an early night as on my second day I was off to Portofino, which is a UNESCO world heritage site. It's an hour or so away by train or 20 minutes by boat….I didn't have a boat. Leaving early was a great idea as I arrived just before lunch, and the clouds were beginning to turn a deep dark grey. I managed to avoid the weather though and walked to the lighthouse and back. My only regret? I wish I done it 10 years ago, when I still lived in Wales and hill walks were a normal occurrance.
Lunch was Pasta and Pesto (one of the Genovan specialities, along with Foccaccia) at Ristorante da I Gemelli di Paolo & Matteo Portofino. Food was okay but the view more than made up for it, overlooking the touristy harbour and the waves cooly rocking the shore.
After an ice cream and souvenir shopping I headed to Santa Margherita Ligure, a larger port and fishing town about 15 minutes away. I headed there for a leisurely stroll along the promenade (the rain was still holding out but threatening), and a cheeky Peroni. It was a pretty place but I wouldn't drive here – the bus from Santa Margherita Ligure to Portofino was borderline lethal, and I apologised to a small lass who's head met my shoulder after a hard brake.
The evening out was spent having a decent meal (surprise surprise) before relaxing in a funky little dive bar called Alla Goccia Chupiteria. It wasn't a late one, as my Saturday was huge.
Saturday was meant to be a day spent worshipping the Italian religion of football, but unfortunately it wasn't to be. My original plan was to go to the Genoa Football Museum, Genova vs SPAL in Serie A, and then Juventus vs Milan on the telly box. Unfortunately, the Genoa Football Museum was shut. Instead I consoled myself by going to Galeone Neptune – which is a huge Galleon Pirate Ship (replica) used on films. I had a great time, even if Trip Advisor says it's not worth it. I feel it is probably my love for Sea of Thieves which what appealed to me, but I had a great hour or so dicking about on the boat like I was a child again.
I then went to eat in Eataly, which was a decent group of restaurants located on the harbour. I had Clam Spaghetti which was amazing, and then headed to Genoa vs SPAL for the football – which you can read about here on my football instagram account – You're Supposed to Be At Home. Give it a follow!
The evening was spent trying to find somewhere that showed the Juventus/AC Milan game, but I was surprised very few bars had TV's with football on. It was strange. Instead I ended up at the wonderful 28 Erbe, chatting to the locals, people watching, having a few beers and ruing the fact I found my favourite bar on the last day of my holiday.
The final day was spent back in Eataly having some more gorgeous fish, as well as spending a short while walking around the pretty Palazzi dei Rolli, before getting a flight back home.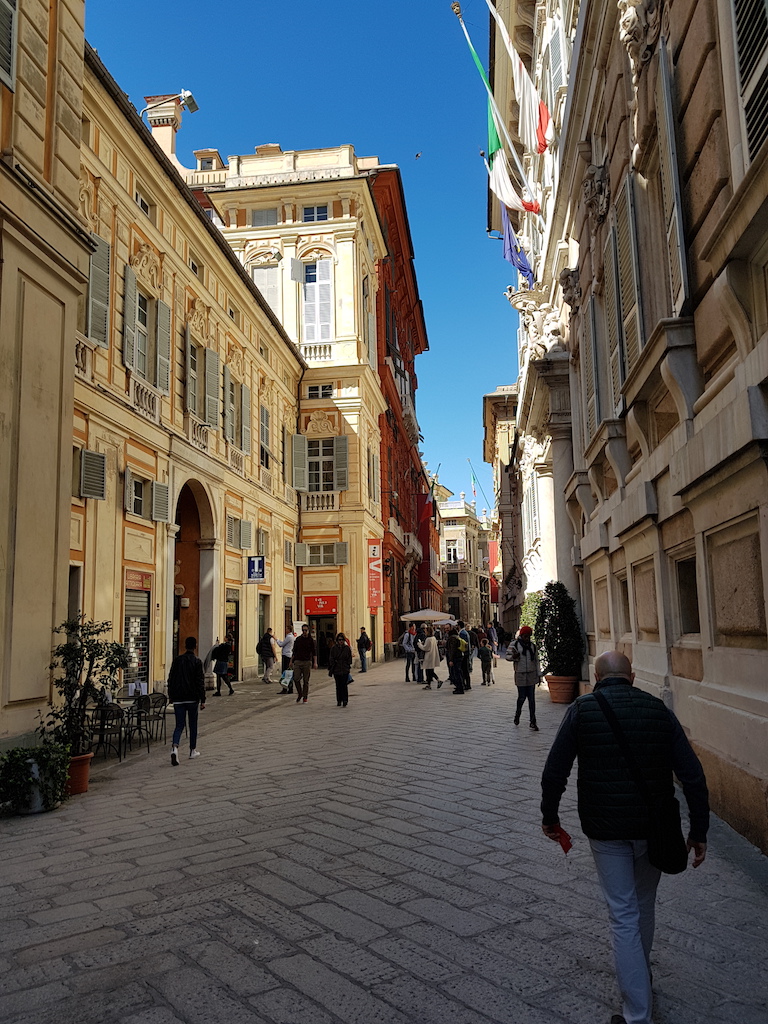 So what of Genoa then? Well, I loved the food and drink, I don't think I ate a bad meal in 3 days. I wish I had one more day to visit – 4 days I feel is enough to see all the wonderful city had to offer, and I wish I had been a bit quicker on the uptake of various attractions such as the massive aquarium. I also now fly up stairs and hills after dealing with the hilly nature of the city for a few days, but I had a great time. I was on the first flight to the city from Manchester, but if you're on one of the later ones – do it.