So, I've began thinking of ideas for blog posts so that at least I'm writing 2 or 3 times a year rather than once or twice every 2 years. An example of a blog post I thought that I quite like is "What's In The Bag?" posts I've seen doing the round. It's interesting to see how people's bags and rucksacks develop over time, so I thought I'd do mine. Here's my bag, and what's currently in it – as well as it numbered so you can easily follow below. Or I think easy to follow – my graphics skills aren't the best!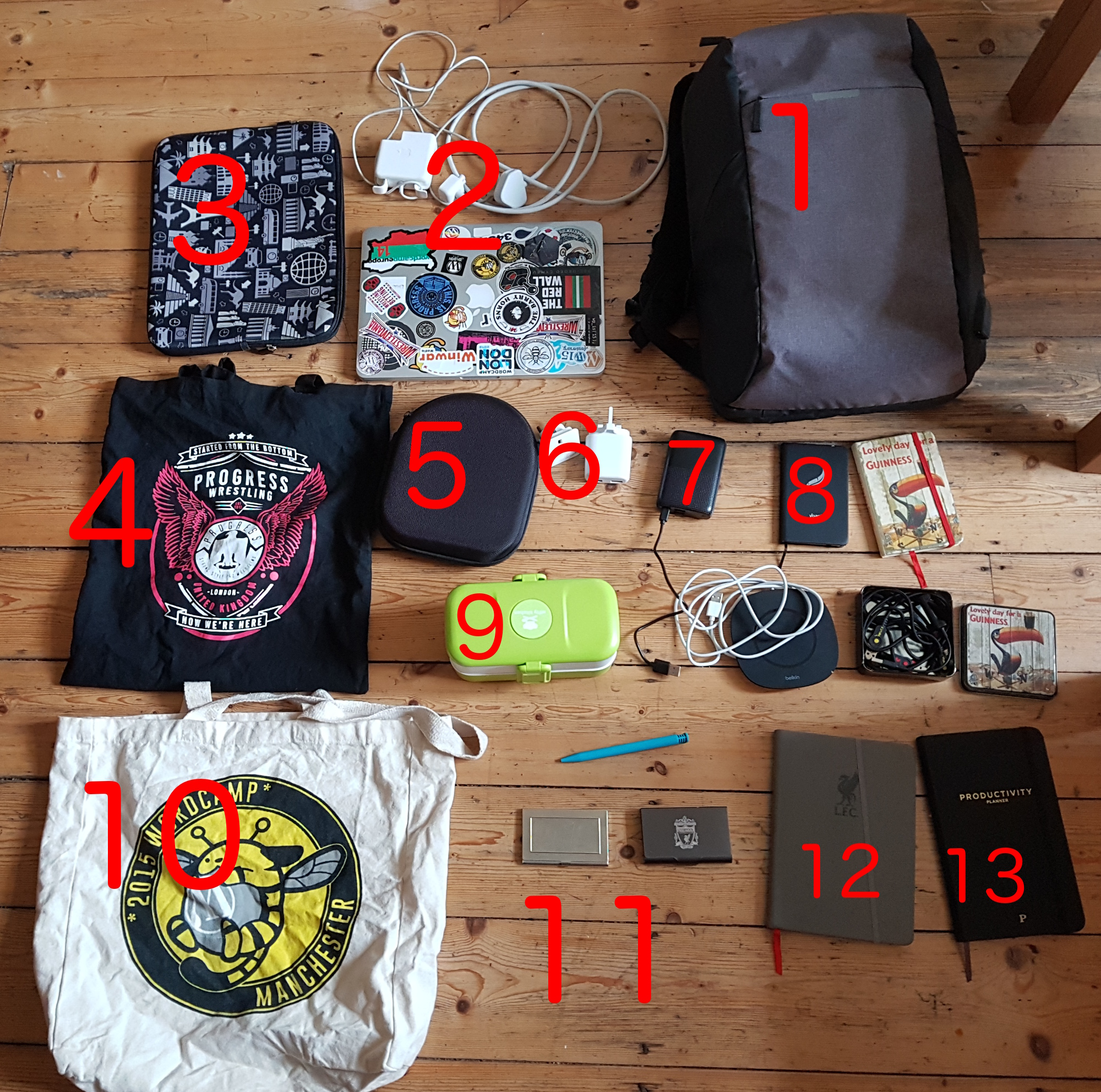 Wiwa OnePack – This was a fairly ill advised kickstarter, but it came through and it's decent. A roomy backback which is easy to carry and two major compartments, one fairly roomy main backpack designed for 2 or 3 night stays (I will disagree mind), and a "work" area for laptops and notebooks. It is an okay backpack, slightly soured by how long it took, but it's okay.
2015 Macbook Pro – Love, love, love this machine! Absolute beast and runs along quite nicely. Still only 3 years old and whilst I covered it with stickers it's still chugging along without any problems. I wish the hard drive was bigger though. Charger is beginning to get the same issue all chargers for the Mac seem to suffer.
World Civilization Laptop Sleeve – Because I'm forever dreaming of going away and this is a useful laptop sleeve.
PROGRESS Wrestling Tote Bag – always need to be representing my fellow ultras.
7dayshop Aero Freedom Noise Cancelling Bluetooth Headphones – My hearing is poor, and I like the Noise Cancelling aspect. It's pretty decent in noise cancelling, compared to earphones.
Clas Ohlson USB Double Charging Plug & EU Plug Adapter – after a trip to Italy where I forgot all my plugs and adapters, I've made a reason to always carry these two items in my bag, so I'm not without power.
Puridea Phone Power Bank – A decent sized (10000mAh) charger. It's slightly too big for my liking, but it can fit in my bag and not take up too much room.
Small Notebooks – Used for small note taking, such as – for example – when I'm giving a talk (I used one for my WP Leeds talk recently).
Nifty Kitchen Bento Box – Love this little Bento Box! I'd highly recommend anybody to get a Bento Box. I cook for 2 and now eat a delicious lunch the next day. It's expensive for a lunchbox, but it's save me more money in return.
WordCamp Manchester 2015 Tote Bag – as you can never have enough tote bags, this was from WordCamp Manchester 2015, one I helped organise.
Business Cards Holders – Holding business cards for Winwar Media as well as stickers for Winwar & WP Email Capture.
LFC Notebook – Used for taking meeting notes, more long form writing that I need to do occasionally.
Intelligent Change Productivity Planner – I've started using this to plan my days. It's pretty good but I'm still getting the hang of it. Will let you know how it goes but it's working with my Pomodoro technique, though one task every day may just be "Small Work jobs on my Remember The Milk list"
(Above 12) Belkin Boost Up Wireless Charger – I thought this was a fad, as was the Treasure Truck, but I bought this on The Amazon Treasure Truck and it was a good purchase. Just makes my life easier. Can be temperamental at times though.
(Above 13) Small Tin full of USB Cables & Bits and Bobs – I bought the tin in Dublin, as on my flight to Dublin I broke my USB cable, leaving me in trouble for a week stay there. This keeps the cables safe and secure. This does contain the Volutz Charging USB Cables, which are the best USB cables I've ever owned, so tough!
Anyway, that's what's in my bag, what's in yours? Leave them in the comments!